PhotoADKing has been useful for creating beautiful designs without needing too much graphic knowledge or digital drawing tools.
Amy G. (Social Media Influencer)
Rating: 5/ 5
Social Media Post Creator
Are you looking to make a strong impact on social media? Want to captivate your audience with stunning visuals and engaging content? Look no further! With our Social Media Post Maker, you can easily create visually appealing and captivating posts that will make your brand stand out.

Social Media Poster Templates
Create social media posters in minutes by customizing PhotoADKing's design templates. Whatever social media you're using, whether you're creating a cover photo, banner, or sharing an inspirational post, use PhotoADKing's graphic design templates to create social media posts.
Key Features
Craft beautiful social media posts with our easy-to-use drag-and-drop tools. No design skills are needed.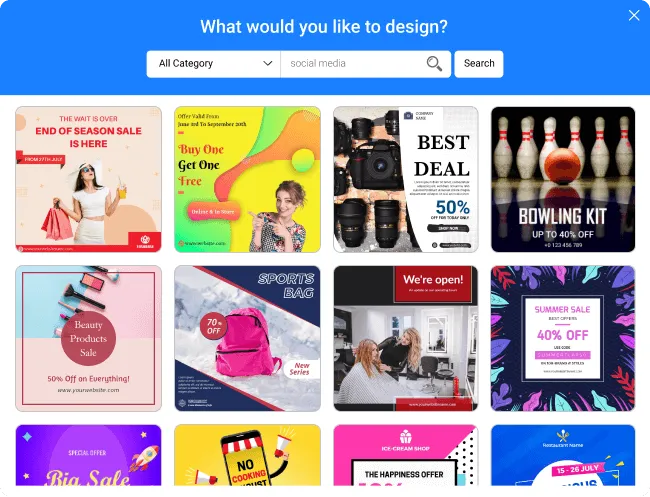 Use advanced graphic design tools
PhotoADKing provides simple drag and drop graphic editing tools to create social media posts. Whether you want to remove backgrounds or crop images, you can do it all.
Start Designing Your Social Media Posts
How to Create Social Media Posts
Determine the purpose of your post. Are you promoting a product, sharing a message, or engaging with your audience? Clarifying your objective will guide the content and tone of your post.
2
Choose the right platform
Identify the social media platform(s) where you want to share your post. Different platforms have varying requirements and optimal image sizes, so make sure you tailor your design accordingly.
Decide what type of content you want to share. It could be an image, a video, an infographic, or a combination of these elements. Consider the visual elements, text, and any relevant hashtags or mentions.
4
Signup With PhotoADKing
Create a free account using email, Facebook, or Google.
5
Choose a template or start from scratch
PhotoADKing offers a range of templates specifically created for social media posts. Browse through the available options or start with a blank canvas if you prefer complete creative freedom.
Personalize the template or canvas by adding your own text, images, colors, and fonts. Ensure your design aligns with your brand's visual identity and matches the objective of your post.
Keep in mind that most social media users access platforms through mobile devices. Make sure your design is mobile-friendly and visually appealing on smaller screens.
Consider incorporating attention-grabbing elements such as bold headlines, captivating images, compelling call-to-action buttons, or overlays that enhance the visual impact of your post.
Before finalizing your design, review the text for any spelling or grammatical errors. Ensure that the overall layout and composition look visually pleasing and coherent.
Once you are satisfied with your design, save it in the appropriate format and size for the chosen social media platform. Then, upload and share your post with your audience. You can also schedule posts using social media management tools.
Engage Your Audience
Ignite your social media presence with our dynamic social media post and graphic design templates, where we combine captivating visuals, compelling copy, and strategic branding to engage your audience and amplify your online reach.
Increase Your Followers
Stand out in the crowded social media landscape with our expertly crafted posts and graphic designs, tailored to your brand's personality and goals, delivering impactful messages and driving meaningful interactions with your followers.
Loved by the people around the world