Love how easy it is to design flyers for my small business.
Trish Becker (Business Owner)
Rating: 5/ 5
Flyer Design Made Easy
Use PhotoADKing's 20000+ professionally made flyer designs or make your own flyer from scratch with a pre-made resources library of over 1 million shapes, icons, images, fonts, and more.
Key Features
Create a flyer for your upcoming sale, event, or promotional content using PhotoADKing's powerful key features to create your own flyer online.
20000+ Flyer Design Templates
PhotoADKing has fully customizable flyer design templates for all your need. You can create a flyer that illustrates your basic concept and ideas about your business or event.
Make Your Own Flyer
1m+ Shape, Sticker, Icons & Stock Photos
Include the shapes, stickers, and icons from a huge collection you want in your design. You can choose from 1m+ stock photos to utilize in templates as per your liking if you don't want to upload your own photos.
Make Your Own Flyer
Add Custom Fonts
PhotoADKing allows adding personalized fonts to your designs that can match your brand's visual identity. This can help to create a cohesive and consistent look for a company's marketing materials.
Make Your Own Flyer
Custom Canvas Size
Create your design in a custom canvas size for your next marketing move although you can choose the best fit predefined image sizes for social media platforms.
Make Your Own Flyer
Fully Customizable Layer Editor
With layer editor, you can customize different layers for each element in your design. Changing one layer's position does not affect the rest, which makes the design process more flexible with our layer editor.
Make Your Own Flyer
Auto Save Designs
PhotoADKing provides features for auto-saving your design. It saves your designs so that if you need to reuse the same template you can do it without having to redo your work. Of course, only you can have access to view and edit your saved design.
Make Your Own Flyer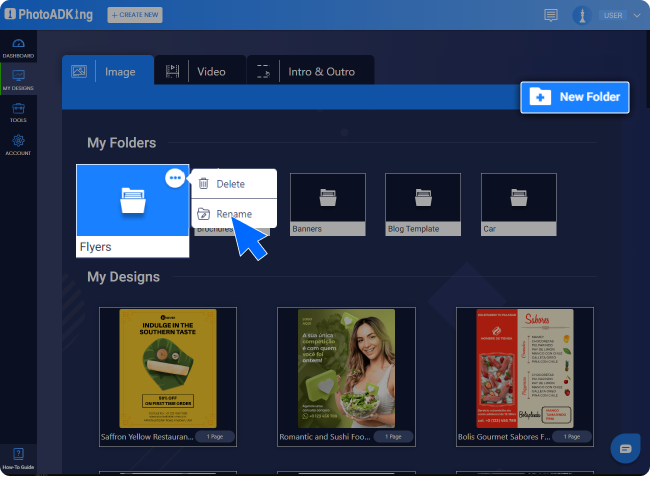 Easily Manage Designs in Folders
A dedicated dashboard is available for every user to manage their saved designs. Folders can allow you to organize, re-edit, rename, duplicate or delete your saved design easily.
Make Your Own Flyer
Multiple Export Options in High-resolution
PhotoADKing allows you to export high-resolution images which are important for creating professional designs. Multiple export options can be the most convenient for you for various purposes. It can also increase the flexibility and usability of your design.
Make Your Own Flyer
Multiple Page Designs
If your design requires more than one page then don't worry because PhotoADKing got you covered. It lets you have a multiple-page format design rather than being limited to a one-page design.
Make Your Own Flyer
Shortcut Keys for Quick Action
In the editor for quick actions like save, copy, delete, undo, redo, etc you can use shortcut keys. This feature helps you to increase productivity, improve accuracy and reduce the risk of errors.
Make Your Own Flyer
24*7 Customer Support
Our 24*7 customer support can help to improve your experience by providing quick and efficient resolutions to any issues or questions that you may have.
Make Your Own Flyer
3D Editor for More Toppings
The 3D shape used designs can help you to get more attraction as compared to normal designs in your marketing campaign. PhotoADKing's 3D editor lets you enhance the appearance of your elements in a 3D way, and use them directly in your design.
Make Your Own Flyer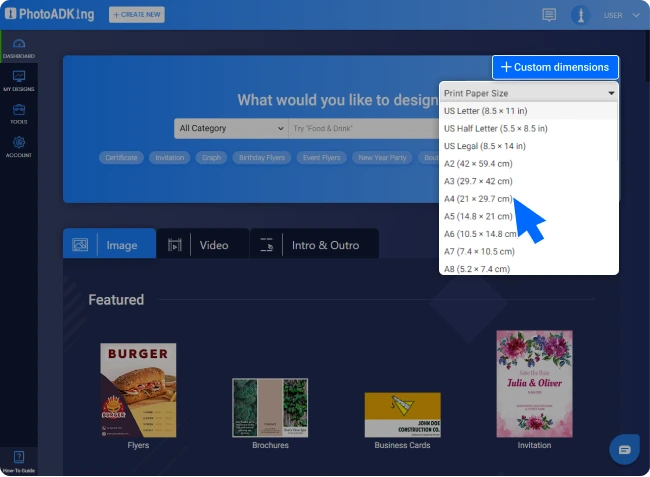 Predefined Printable design size
Use PhotoADKing's predefined printable design sizes that can help you to choose the right design size as per your need. PhotoADKing's flyer maker has more than 10 printable design canvas sizes to ease your work.
Make Your Own Flyer
How to Make a Flyer
Create a free account with an email OR sign in with Google OR Facebook.
2
Explore Design Templates
Search for "flyer" in the dashboard. Explore 20000+ flyer design templates and find the perfect flyer design to customize for your business needs.
3
Customize, Save & Re-edit
Add/change background images or colors with a wide collection of image libraries related to your niche. Add/change your message, change font style, font size, color, etc. Download it in png OR pdf format for printing. Remember you can always edit your design at any time.
Design Your Own Flyer Easily
Making digital flyers helps you to grow your business across social media at a faster pace. You don't need a flyer designer to create professional advertising flyers. We've created a good collection of flyer design templates and it is editable through this flyer maker.
PhotoADKing's flyer maker lets you create flyers on your own without the need for complex design software.
Reusable Advertising Flyers
Create your own advertising flyer design with PhotoADKing that you can re-edit for your next campaign. Find previously designed flyers by you and re-edit them as you want. With reusable advertising flyers, you can save time, effort, and money.
Keep your branding consistent by adding your company logos and colors that you can reuse in future use. And most importantly, you only can have your created flyer design access that you can reuse in the future.
Loved by the people around the world