I am not a tech-savvy person but this flyer designing tool is super easy to use. They have a lot of templates that really save my time and I absolutely love it.
Martin Baker
Rating: 5/ 5
Create Realtor Flyers
Make it easy for your customers to like what you are selling just by designing a property flyer. Choose from a property flyer template and personalize it the way you want. So if you're a realtor and looking for a way to market your real estate properties in an effective way, PhotoADKing's realtor flyer templates are definitely worth considering.

Real Estate Flyers Design
Do your want to make a house for sale flyers, property flyers, or a real estate listing flyer design? Are you looking for a creative real estate flyer design for your inspiration? Explore 1000+ Flyers templates for realtors provided by PhotoADKing and create your own real estate flyers easily.
Key Features
Create a stunning real estate flyer for your upcoming sale, event, or promotional content using PhotoADKing's powerful key features to create your own flyer online.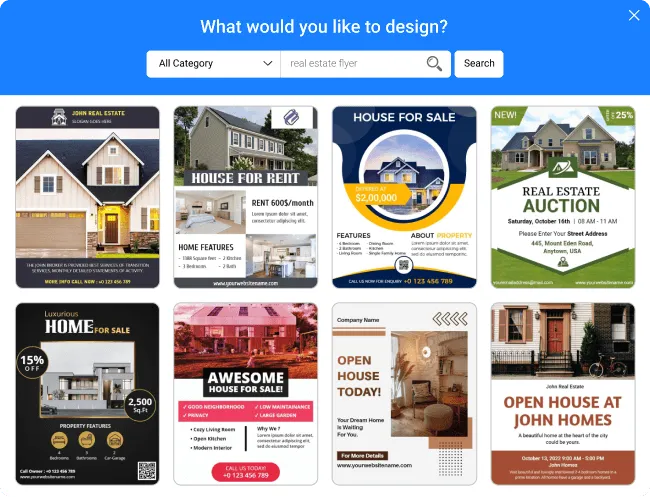 Search for your real estate flyer design
Find your real estate flyer with a quick search bar and choose from hundreds of professional, engaging customizable flyers that allow you to showcase exactly what your audience needs to know about your business or event.
Make Your Own Flyer
Build your flyer from scratch
Create your own design from scratch. Add stock photos or upload your own. Browse our vector icons and illustrations to help your design stand out. Add your text, visuals, and icons to your flyer including contact information so your audience knows where to go. No design experience is needed.
Make Your Own Flyer
Use advanced tools to create design
PhotoADKing provides advanced tools to create designs such as a chart maker, QR code generator, 3D text editor, automatic background remover, and more.
Make Your Own Flyer
How to Make a Real Estate Flyer
Sign up or log in with PhotoADKing and search for a 'real estate flyer' in a search bar.
Choose a template from the wide range of real estate flyer templates library.
Customize a real estate flyer template that you have selected and make it more personalized by adding information about the product or services and your brand identity details.
Download your design in JPG, PNG, or PDF format. You can find your saved design under the 'My Designs' section for re-edit.
Loved by the people around the world
Real Estate Flyer Maker
Get started with creative real estate flyer templates. It's Quick & Easy To Use. Sign Up Now.
Make Your Own Flyer