I am not a tech-savvy person but this flyer designing tool is super easy to use. They have a lot of templates that really save my time and I absolutely love it.
Martin Baker
Rating: 5/ 5
Creative Real Estate Flyers
In a real estate business representing your pitch is the most important thing to do. Let's make it easy for your customers to like what you are selling just by making a property flyer. The pictorial representation of property space helps engage and connect with potential customers. Choose from a real estate flyer template and personalize it the way you want. Takeaway high-quality flyers devised in seconds without needing any design experience.

Real Estate Flyer Creator
Our easy-to-use real estate flyer maker has a massive library of ready-made templates. If you want to make a house for sale flyers, property flyers, or a real estate listing flyer we have it all. Determine whether your flyer talk is in direct line with customers or with a mediator. Get your hands on free real estate flyer templates today. Make one real estate flyer now. Free, quick & easy to use.
Key Features: Real Estate Flyer Maker
Take it as a real estate flyer creator to showcase your products for social media marketing. The filters, effects, background and real estate flyer templates that were hard to create once are now easily editable with the PhotoADKing's real estate flyer maker.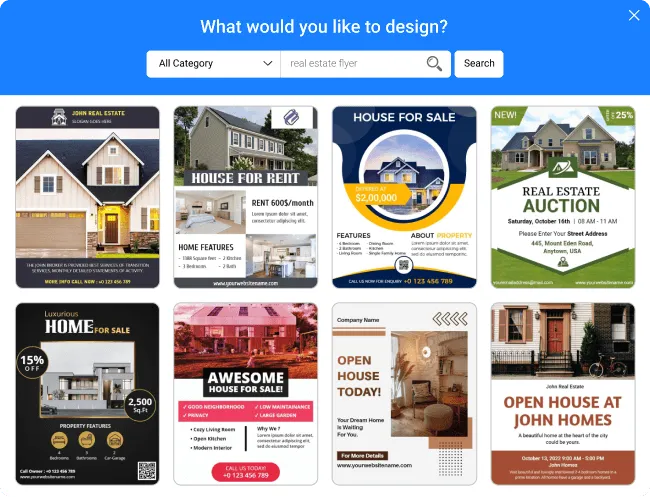 Search for your real estate flyer design
Find your business category with a quick search bar and create a real estate flyer with an easy-to-use real estate flyer maker.
Create Real Estate Flyer
Just select a real estate flyer template and customize
Pick and customize one of our real estate flyer templates to get started. No real estate flyer design skills are needed.
Create Real Estate Flyer
Advanced real estate flyer making tools
PhotoADKing provides simple drag and drop photo editing tools to create real estate flyers. Whether you want to remove backgrounds or crop images, you can do it all.
Create Real Estate Flyer
How to Make a Real Estate Flyer
Sign up or log in after opening PhotoADKing and search for a 'real estate flyer' using a search tool.
Choose a real estate flyer template
2
Choose a template from the wide range of real estate flyer templates library.
Within PhotoADKing you can explore many features that allow you to make a real estate flyer more personalized. Like stickers, fonts, and free-to-use premium stock images.
Making a real estate flyer more personalized by adding information about the product or service will make the real estate flyer perfect.
After customizing your personalized real estate flyer, it is time to download and share it with the world. Click on the 'share' button to share your real estate flyer to the digital platforms.
Real Estate Flyer Maker
Get started with creative real estate flyer templates. It's Quick & Easy To Use. Sign Up Now.
Create Your Own Flyer