Facebook Video Maker
Make Facebook videos easily with PhotoADKing's simple Facebook video maker.
Create a Facebook Video
Can't think of any other Facebook post maker. My eyes got stuck on the trendy & classic Facebook post templates. They are fulfilling my need, in just another tap my design got ready.

Charles P (Business Owner)
Rating: 5/ 5
Create Facebook Videos Easily
Make videos for Facebook and take your business to the next level. Making videos for Facebook can be a big task for a non-techy person who has never touched video editing software before.PhotoADKing has come up with an easy-to-use Facebook video maker that is not only free to use but also super simple for users to make videos for Facebook. Relive the idea of social media marketing by making top-notch videos for your next promotional content with PhotoADKing. You don't have to seek out any design ideas, just plan the type of content you want to have and pick a template that matches your style.

Facebook Video Templates
Receive maximum sales through the medium of video marketing over Facebook using PhotoADKing's fully editable Facebook Video Templates. Leverage the idea of promoting your brand message by making inspiring Fb video posts. Facebook video creation is a key to a successful business in the digital world. Use PhotoADKing's video maker for Facebook and get your marketing materials ready in just a few clicks.
Key Features
Take it as a video content creator to showcase your products for video marketing. The filters, effects, background, and Facebook video templates that were hard to create once are now easily editable with PhotoADKing's Facebook video maker.
Search for your Facebook video template
Find your business category with a quick search bar and create a Facebook video with an easy-to-use Facebook video maker.
Create a Facebook Video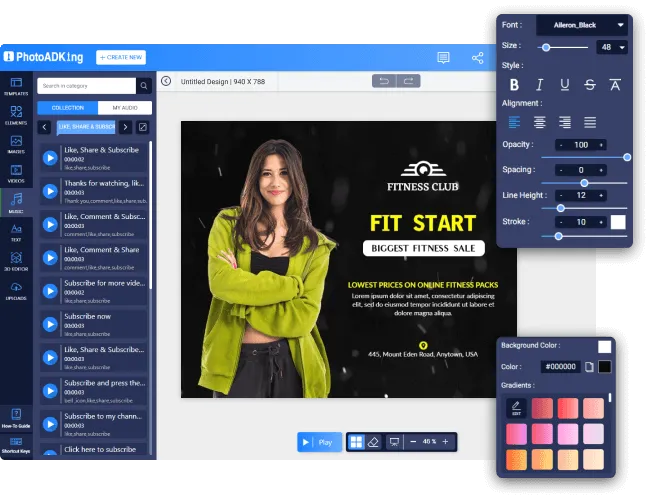 Just select a Facebook video template and customize
Pick and customize one of our Facebook video templates to get started.
Create a Facebook Video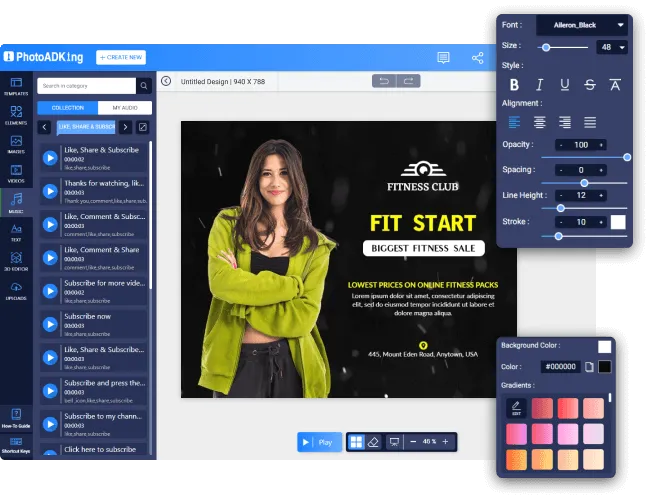 Advanced Facebook video-making tools
PhotoADKing provides simple drag and drop video editing tools to create Facebook videos. Whether you want to add your own video or crop audio, you can do it all.
Create a Facebook Video
How to Make a Facebook Video
Sign Up With PhotoADKing
1
Sign up for free or log in after opening PhotoADKing and search for 'Facebook video' using a search tool.
Search Facebook Video Templates
2
Find social media post design templates for your needs. Try 10 templates for free.
Customize Your Facebook Video Design
3
Add/Edit text, images, and icons with your brand identity to get your design ready in minutes. Use formatting options, styles, and shapes in a creative way to utilize the controls.
Make your own stunning Facebook video by adding more design elements. Browse through our free and premium images, stickers, icons, and videos.
After customizing and making personalized Facebook videos, it is time to download and share.
Make Stunning Facebook Video Ads
Create incredible Facebook photo videos with our easy-to-use Facebook video maker. No video editing skill is needed.
Create a Facebook Video