Photography Logo Maker
Make awesome photography logos in a matter of seconds. No design skills needed.
Create a Photography Logo
I had a very good experience with PhotoADKing for the first time: not difficult at all and it's not that costly as well.
Mauricio R. (Business owner)
rating: 5/ 5
Create Photography Logos in a Snap
PhotoADKing's easy-to-use online photography logo maker is here to help you make an awesome logo for photography in minutes. Making eye-catchy photography signature logos is just a piece of cake with PhotoADKing's free photography signature logo maker. Even if you are not a designer, you can still create photography logos that will stand out from the crowd using our logo maker tool. Make a photography logo today with PhotoADKing and get 10 downloads free for a lifetime.

Photography Logo Templates
PhotoADKing offers the best photography logo templates on the internet. We have more than 500+ templates that you can play around with. Start with choosing a suitable logo from the gallery, customize by adding shapes, icons, altering color shades and fonts just the way you want. No prior design experience is needed when you are with PhotoADKing's tools. Stop wasting your time coming up with a good logo design idea, pick a template and make it yours in just a snap.
Photography Logo Maker
Take it as a photography logo creator to showcase your products for social media marketing. The filters, effects, background, and photography logo templates that were hard to create once are now easily editable with the PhotoADKing's photography logo maker.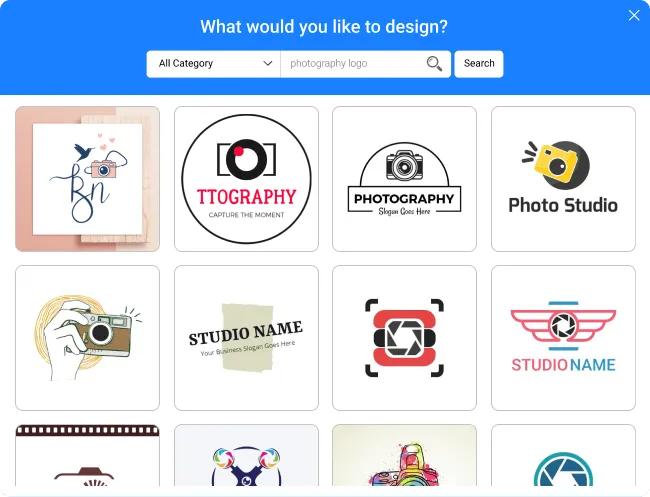 Search for your photography logo design
Find your business category with a quick search bar and create a photography logo with an easy-to-use photography logo maker.
Create a Photography Logo
Just select a photography logo template and customize
Pick and customize one of our photography logo templates to get started. No photography logo design skills are needed.
Create a Photography Logo
Advanced photography logo making tools
PhotoADKing provides simple drag and drop photo editing tools to create photography logos. Whether you want to remove backgrounds or crop images, you can do it all.
Create a Photography Logo
How to Make a Photography Logo
1
Sign Up With PhotoADKing
Sign up for free or log in after opening PhotoADKing and search for 'photography logo' using a search tool.
2
Search Photography Logo Templates
Find photography logo design templates for your needs. Try 10 templates for free.
3
Customize Your Photography Logo Design
Add/Edit text, images, icons with your brand identity to get your design ready in minutes. Use formatting options, styles, and shapes in a creative way to utilize the controls.
Make your own stunning photography logo by adding more design elements. Browse through our free and premium images, stickers, icons, and videos.
After customizing and making a personalized photography logo, it is time to download and share.
Loved by the people around the world
Photography Logo Maker
Choose from more than 120+ photography logos. It's free simple and easy to use.
Create Photography Logos