I had a very good experience using this for the first time: not difficult at all and friendly.
Carl Reeves. (Eatery Shop Owner)
Rating: 5/ 5
Make Food Brochure Designs
Many restaurant businesses give utmost importance to brochures as they believe this plays an important role in effective marketing and will benefit them in the long run. Rest assured and leave all the design tasks on us, so that you can completely define a personalized food brochure design of your choice all by yourself. PhotoADKing's food brochure maker lets you customize templates in just a few clicks. Plus you don't even need any prior design experience.

Food Brochure Templates
Our vast range of food brochure templates will help you eliminate the need of hiring a designer. In order to use them, you just have to replace the default text with yours, add your own image ( if needed ), or you can also browse from the image library. That's it, you are ready to share it across digital platforms or get it printed for a widespread provision.
Key Features: Food Brochure Maker
Take it as a food brochure creator to showcase your products for social media marketing. The filters, effects, background, and food brochure templates that were hard to create once are now easily editable with the PhotoADKing's food brochure maker.
Search for your food brochure design
Find your business category with a quick search bar and create a food brochure with an easy to use food brochure maker.
Make Your Food Brochure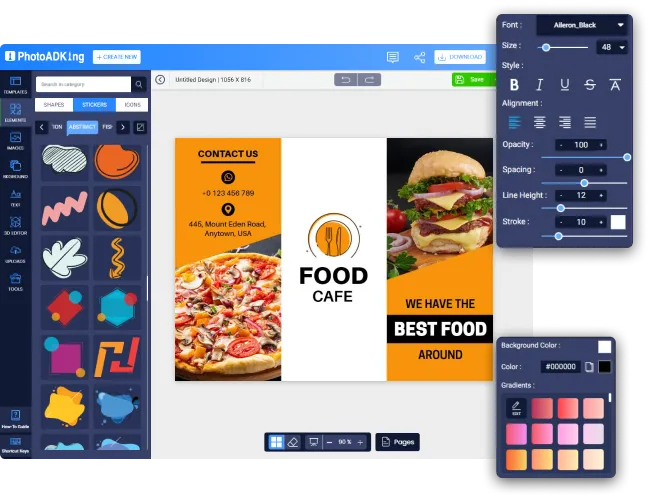 Just select a food brochure template and customize
Pick and customize one of our food brochure templates to get started. No food brochure design skills are needed.
Make Your Food Brochure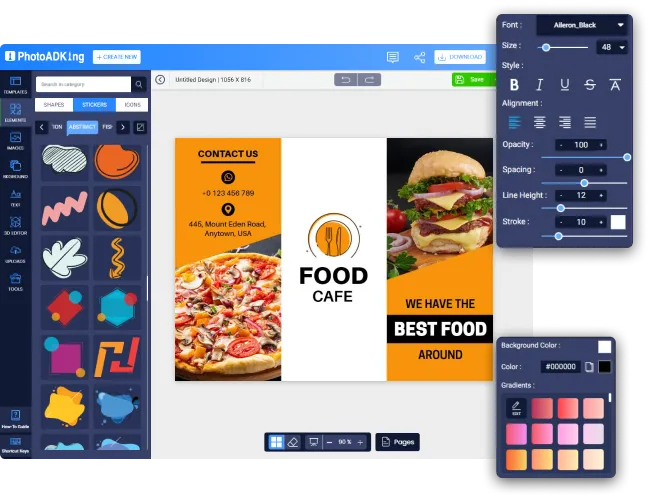 Advanced food brochure making tools
PhotoADKing provides simple drag and drop photo editing tools to create food brochures. Whether you want to remove backgrounds or crop images, you can do it all.
Make Your Food Brochure
How to Make a Food Brochure
Sign up or log in after opening PhotoADKing and search for 'Food Brochure Design' using a search tool.
2
Choose A Food Brochure Design
Choose a food brochure from the wide range of food brochure templates library.
Within PhotoADKing you can explore many features that allow you to make your brochures for food business more personalized. Like stickers, fonts, and free to use premium stock images.
Creating a food brochure more personalized by adding information about the foods you deliver or services you offer, will make the brochure perfect.
After customizing and making a personalized food brochure, it is time to download and share it with the world. Click on the 'share' button to share your food brochure across the digital platforms.
Loved by the people around the world