Very easy to use. Lots of choices. Saved me a fortune on farewell invitations.
Pacher Becker
: 5/ 5
Farewell Invitation Design
Make a farewell invitation for your loved ones with PhotoADKing's editable farewell invitation design. Browse 160+ farewell cards online and customize them with ready-made resources like stock images, shapes, stickers, 3D text, and 3D shapes. Making farewell invitation cards is now super easy with PhotoADKing's template editor.

Editable Farewell Party Invitation Templates
PhotoADKing offers the best collection of editable farewell invitation templates that are fully customizable and easy to use even for non-designers. By the time invitations are concerned, one needs to fully give a brief considering the subject i.e. farewell party first and then enter the required details like date, time, and venue. Also, more importantly, mention the name for whom you are conducting a farewell. Our pre-designed farewell party invitation card has it all so you don't have to worry about remembering every detail hard we got you covered in this situation.
Key Features
Design your own farewell invitation with PhotoADKing's awesome key features to create invitations online.
Search for your farewell invitation design
Find your business category with a quick search bar and create a farewell invitation with an easy-to-use farewell invitation maker.
Make Your Own Invitation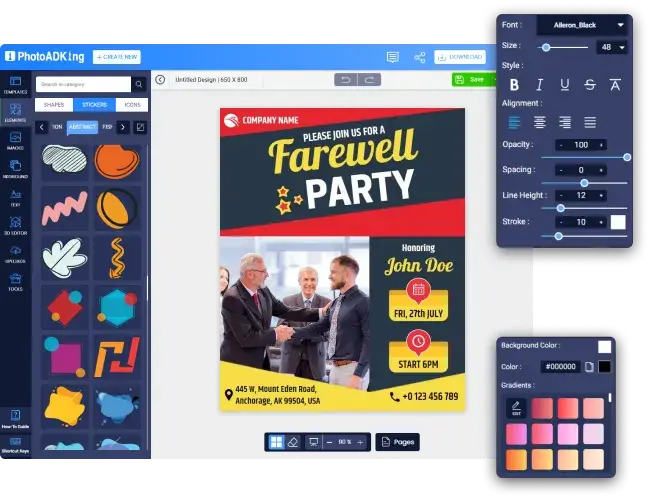 Just select a farewell invitation template and customize
Pick and customize one of our farewell invitation templates to get started. No farewell invitation design skills are needed.
Make Your Own Invitation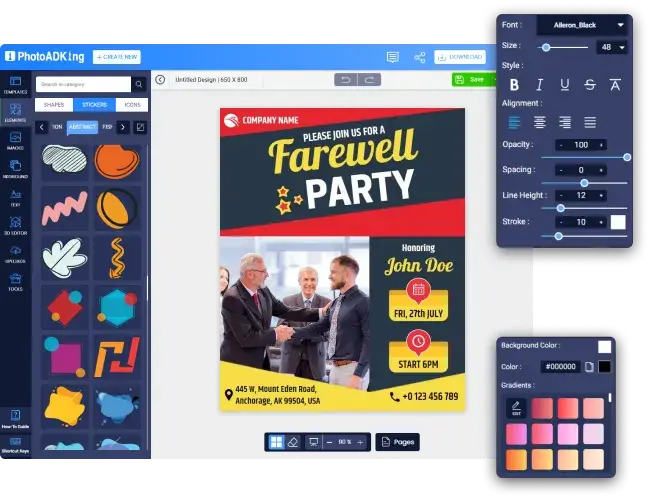 Advanced farewell invitation making tools
PhotoADKing provides simple drag and drop photo editing tools to create farewell invitations. Whether you want to remove backgrounds or crop images, you can do it all.
Make Your Own Invitation
How to Make a Farewell Invitation
1
Sign Up With PhotoADKing
Sign up for free or log in after opening PhotoADKing.
Find farewell invitation templates for your needs. Try 10 templates for free.
Add/Edit text, images, icons with your brand identity to get your design ready in minutes. Use formatting options, styles, and shapes in a creative way to utilize the controls.
Make your own stunning farewell invitation by adding more design elements. Browse through our free and premium images, stickers, icons, and videos.
After customizing and making a personalized Instagram ad, it is time to download and share.
Loved by the people around the world
Create Farewell Invitation Cards
Choose from more than 160+ editable farewell invitation templates. It's simple, quick & easy to use.
Make Your Own Invitation