I made a cover for my facebook page and it was so incredibly easy, thank you!
Deana Hager
Rating: 5/ 5
Beautiful Facebook Cover Templates
Use this Facebook cover maker to change up your marketing content, increase engagement and entertain your audience.
Key Features: Facebook Cover Maker
Take it as a Facebook cover creator to showcase your products for social media marketing. The filters, effects, background, and Facebook cover templates that were hard to create once are now easily editable with the PhotoADKing's Facebook cover maker.
Search for your Facebook cover design
Find your business category with a quick search bar and create a Facebook cover with an easy to use Facebook cover maker.
Create Facebook Cover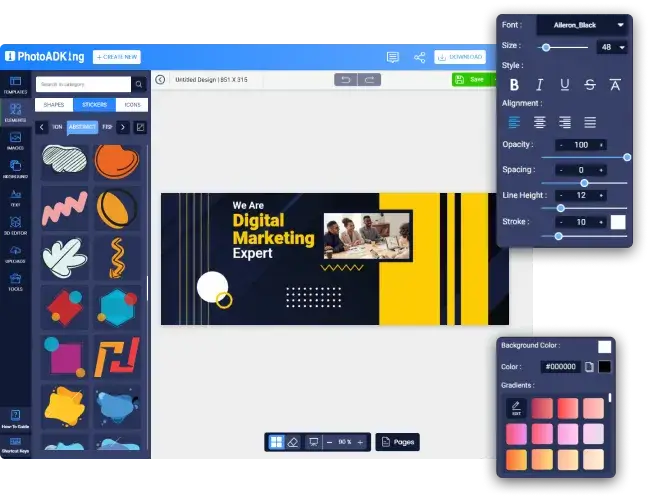 Just select a Facebook cover template and customize
Pick and customize one of our Facebook cover templates to get started. No Facebook cover design skills are needed.
Create Facebook Cover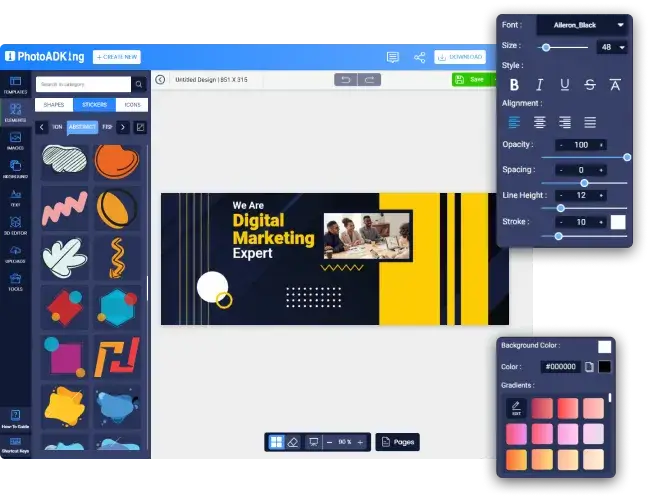 Advanced Facebook cover making tools
PhotoADKing provides simple drag and drop photo editing tools to create a Facebook cover. Whether you want to remove backgrounds or crop images, you can do it all.
Create Facebook Cover Now
How to Make a Facebook Cover
Log in or sign up for your PhotoADKing account and search for "Facebook Cover Template" to start creating your Facebook Cover .
2
Explore Free Facebook Cover Template
Find the perfect Facebook cover design for your niche. Choose from multiple Facebook cover templates and create your own Facebook cover.
3
Customize Facebook Cover Template
Craft your Facebook cover by adding text and photos. Get creative with more Facebook cover design elements.
4
Add More Design Elements
Experiment with different Facebook cover layouts, stock images, illustrations, different color and font combinations.
5
Download Facebook Cover and Share
Save your Facebook cover design as a PDF, JPG, or PNG file. You can also re-edit your Facebook cover template at any time.
Loved by the people around the world
Facebook Cover for Business
Create your own desktop FB cover with ease using our powerful desktop Facebook cover maker.
Create Facebook Cover