So easy to use, exactly what I needed.
Victor O.(Student)
Rating: 5/ 5
Make Your Own Certificate
Certificate maker allows users to create stunning certificates for various purposes. Whether you need a certificate to recognize academic achievements, acknowledge employee performance, or certify the completion of a course or training program, PhotoADKing's online certificate maker offers a wide range of customizable templates to suit your needs. Whether you're an individual, business, or institution, PhotoADKing's certificate maker is an excellent resource for creating high-quality certificates that recognize and celebrate achievements.

Certificate Templates For All Your Needs
PhotoADKing's certificate maker offers a vast collection of certificate templates that are customizable to fit the needs of users. These templates cover a wide range of purposes, including academic achievements, employee recognition, and course completion, among others. The certificate templates feature modern and professional designs, with a variety of font styles, colors, and layouts to choose from. Users can also add their own logos, images, and text to make the certificate unique and personalized.
Key Features
Explore the key features of a certificate creator and how it can help you create a professional certificate design online.
5000+ Certificate Design Templates
PhotoADKing has fully customizable design templates for all your need. Having vast categories of templates allows you to have stunning designs no matter whether you want to create a certificate for an award, appreciation, or employee of the month.
Make Your Own Certificate
1m+ Shape, Sticker, Icons & Stock Photos
Include the shapes, stickers, and icons from a vast collection you want in your design. You can choose from 1m+ stock photos to utilize in templates as per your liking if you don't want to upload your own photos.
Make Your Own Certificate
Add Custom Fonts
PhotoADKing allows adding personalized fonts to your designs that can add a touch of elegance and personalization, allowing the text to stand out and reflect the unique identity of the recipient or the occasion.
Make Your Own Certificate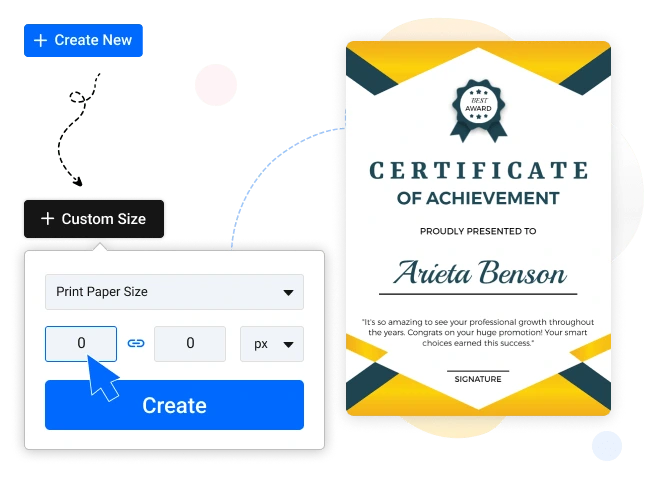 Custom Canvas Size
Create your certificate design in a custom canvas size. With the Custom Canvas Size feature, users have the flexibility to design certificates that meet their exact specifications, resulting in professional and visually appealing certificates for various occasions.
Make Your Own Certificate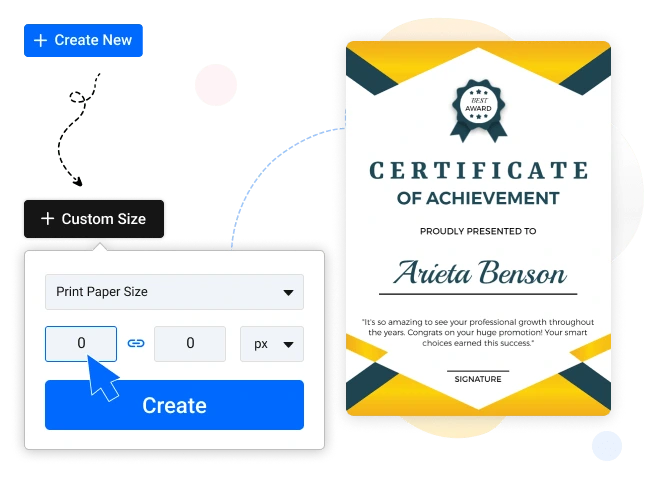 Fully Customizable Layer Editor
With layer editor, you can customize different layers for each element in your design. Changing one layer's position does not affect the rest, which makes the design process more flexible with our layer editor.
Make Your Own Certificate
Multiple Export Options in High-resolution
PhotoADKing allows you to export high-resolution images which are important for creating professional designs. Multiple export options can be the most convenient for you for various purposes. It can also increase the flexibility and usability of your design.
Make Your Own Certificate
Auto Save Designs
PhotoADKing provides features for auto-saving your design. It saves your designs so that if you need to reuse the same template you can do it without having to redo your work. Of course, only you can have access to view and edit your saved design.
Make Your Own Certificate
Predefined Printable Design Size
Use PhotoADKing's predefined printable design sizes that can help you to choose the right design size as per your need. PhotoADKing's certificate maker has more than 10 printable design canvas sizes to ease your work.
Make Your Own Certificate
How to Make Your Own Certificate
Create a free account with an email OR sign in with Google OR Facebook.
Search for "Certificate" in the dashboard. Explore 2000+ certificate design templates and find the perfect certificate design to customize as per your needs.
3
Customize, Save & Re-edit
Add/change background images or colors with a wide collection of image libraries related to your niche. Add/change your message, change font style, font size, color, etc. Download it in png OR pdf format for printing. Remember you can always edit your design at any time.
Design Your Own Certificate Easily
Now making a certificate is very easy as PhotoADKing has all covered no matter whether you are a designer or not. PhotoADKing's certificate creator is so easy that anyone can create a professional certificate in a few minutes.
PhotoADKing's certificate creator lets you create certificates on your own without the need for complex design software.
Reusable Certificate Designs
Design a certificate with PhotoADKing that you can re-edit for your next use. Find previously designed certificates by you and re-edit them as you want. With reusable certificate designs, you can save time, effort, and money.
Keep your branding consistent by adding your company logos and colors that you can reuse in future use. And most importantly, only you can have access to your created certificate design that you can reuse in the future.
Loved by the people around the world