I needed a poster design quickly and I have no talent. This app made me feel like a pro and I had something designed in less than 5 minutes.
David Locke (Business Owner)
Rating: 5/ 5
Create a Poster
Create a poster for your next event with a poster maker. Select from the 10000+ poster templates to make your own poster in minutes. Poster creation is super easy with PhotoADKing's poster maker. Make your own poster with PhotoADKing's poster maker with 100+ typography styles, a stock of free images, and dozens of stickers & icons. No poster design skills are needed.

Creative Poster Templates
PhotoADKing's custom poster maker provides a library of 10000+ poster templates and you can customize it as per your need. Edit professionally designed poster templates and say goodbye to complicated poster designing software. PhotoADKing's custom poster maker is also useful for everyone to design posters online. You can use 10000+ poster templates or you can make your own poster from scratch using a premade library of over 1 million stickers, icons, images, logos, fonts, and more. We have all the important resources that can create your own poster with ease.
Key Features
Take it as a poster maker to showcase your products for social media marketing. The filters, effects, background, and poster design that were hard to create once are now easily editable with PhotoADKing's online poster maker.
Search for your poster
Find your business category with a quick search bar and create a poster.
Make Your Own Poster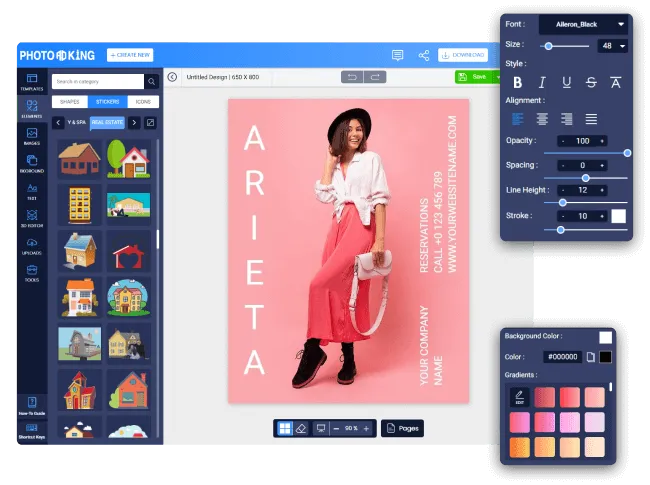 Just select a poster template and customize
Pick and customize one of our poster templates to get started. No poster design skills are needed.
Make Your Own Poster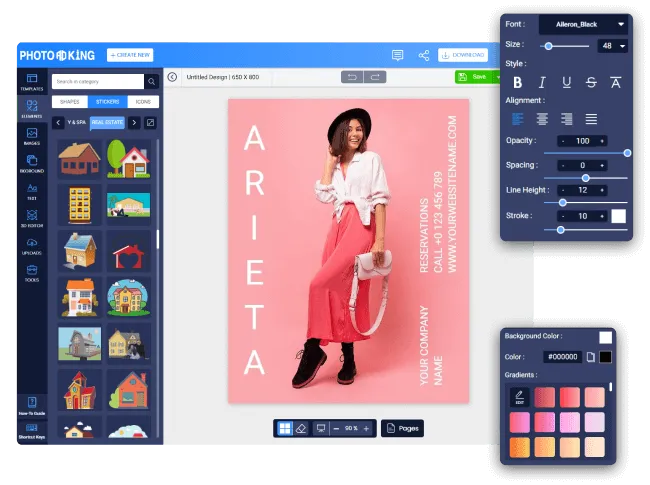 Advanced poster making tools
PhotoADKing provides simple drag-and-drop photo editing tools to create posters. Whether you want to remove backgrounds or crop images, you can do it all.
Make Your Own Poster
How to Make a Poster
Identify the purpose of your poster. Is it for an event, promotion, announcement, or informational purposes? Understanding the goal will help you plan the content and design accordingly.
Decide what information you want to include on the poster. This may include a catchy headline, key details, images, and any necessary contact information. Keep the content concise and visually appealing to grab attention.
3
Signup With PhotoADKing
Open PhotoADKing's online poster maker in your desktop browser and create a free account using email, Facebook, or Google.
4
Select a Template or Design from Scratch
Choose a pre-designed template that aligns with your poster's purpose. Alternatively, start with a blank canvas if you prefer to design from scratch. Consider the layout, color scheme, and overall visual style.
Personalize the template or create your own design by adding your content. Insert your headline, body text, images, and any additional elements you want to include. Experiment with font styles, colors, and sizes to enhance readability and visual appeal.
Organize the elements on your poster in a logical and visually pleasing way. Ensure important information stands out and is easily readable from a distance. Use alignment and spacing to create a balanced composition.
Incorporate relevant visuals such as images, illustrations, icons, or graphics to make your poster more engaging. Ensure the visuals support and enhance your message. Be mindful of copyright and use royalty-free or properly licensed images.
8
Add Effects and Typography
Apply effects, filters, or typography styles to make your poster visually captivating. Experiment with shadows, gradients, or other effects to add depth and dimension. Choose font styles that are easy to read and match the overall tone of your poster.
Take a step back and review your poster design. Check for any errors, typos, or inconsistencies. Ensure the layout and visual hierarchy flow smoothly and effectively communicate your message. Make necessary edits to refine the design.
Once you are satisfied with your poster design, save it in a high-resolution format suitable for printing or digital sharing. Common formats include JPEG, PNG, or PDF. Consider the intended use and requirements when saving the final file.
If you plan to print the poster, choose a professional printing service or use a high-quality printer. Select the appropriate paper size and finish for optimal results. If sharing digitally, consider platforms like social media, websites, or email campaigns.
Loved by the people around the world
Poster Maker
Design eye-catching posters for any occasion, whether it's for events, promotions, or personal projects.
Make Your Own Poster